About Eightfold Way Consultants
Eightfold Way Consultants, founded in 1998, develops websites and web-based applications for nonprofit organizations and others. EfW provides:
Advanced software development

Strategic, conceptual, process and organizational consulting
---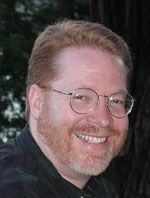 Jack Eastman, President and founder of Eightfold Way Consultants, holds a Ph.D. in High-Energy Particle Physics from UC Berkeley. In the late 80's, he wrote the wildly successful screen saver software After Dark and invented the famous Flying Toasters. As Vice President of Engineering and CTO at Berkeley Systems, Jack directed the development of many popular utility and game software titles, including the hit You Don't Know Jack.
Jack was co-founder and CTO of CloudSource, a company dedicated to the creation of high-quality, low-cost websites for small businesses and government agencies. He and his development team wrote a sophisticated website development toolset, empowering producers who had no previous web experience.
For Eightfold Way Consultants, Jack has written a new web content management system that offers unparalleled control over generated HTML, direct web-based access to content for clients, and a special emphasis on accessibility for people with disabilities.
Jack lives and works in Berkeley, California.